Deva Premal & Miten with Friends - Live on Stage 2023
Deva Premal & Miten &nbsp
Münchener Straße 21
90478
Nürnberg
Event organiser:
KardellMedia, Rattenberger Straße 33, 81373 München, Deutschland
Event info
With renewed inspiration and a collection of new and old classics, including the Gayatri Mantra, the Moola Mantra, So Much Magnificence, Rain of Blessings, Tara Mangalartha Mantra...and many others from their recent best-selling album, TIMELESS, Grammy nominated Deva Premal & Miten are back on the road.

Together with their Temple Band, Deva and Miten present an evening of great music, loving hearts, open voices and supreme immersion into mantras and meditation.

"...I have loved Deva and Miten´s recorded music for many years, but experiencing them ´live´ is another dimension.." A. Munich

"...The most beautiful concert of my life..." Vk london

"...Unbelievable night - the mantras, the songs, the love ..." I.P. Paris

Deva: "During our recent European Timeless Tour we experienced a deep and profound nourishment of the soul as we reunited with friends from so many countries, re-emerging from the darkness of lockdown to the splendour of being together, connected in the divine practice of chanting, singing, and meditation.
We gather again, to give thanks to the Almighty - to celebrate our life challenges and rise above the turbulence."
There is no better time to raise our voices in celebration."

Miten: "For Deva and I, this is our life blood and it was this longing for the human touch - the human connection - that has brought us back on the road.
It is a regathering of the tribes - A reunion of kindred spirits!"
Videos
Event location
Meistersingerhalle
Münchener Straße 21
90478 Nürnberg
Germany
Plan route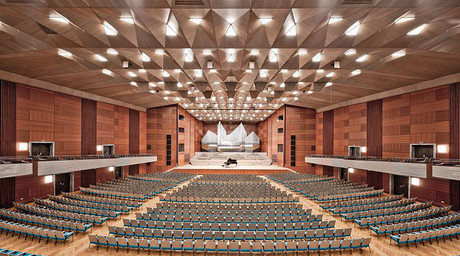 Diese Hallen bieten für jede Veranstaltung den richtigen Raum. Die Meistersingerhalle ist durch ihre vielseitigen Nutzungsmöglichkeiten und die moderne Technik zu einem der wichtigsten Veranstaltungsorte der Stadt avanciert.

Nach dreijähriger Bauzeit wurde die Halle 1963 eröffnet. Sie ist nach der Nürnberger Tradition der Meistersinger benannt. Hier finden seit der Eröffnung Veranstaltungen aller Arten statt. Für große Konzerte, aber auch Tanzbälle, Tagungen und Kongresse kann die Meistersingerhalle genutzt werden. Über 800 Veranstaltungen in den denkmalgeschützten Räumen der Meistersingerhalle locken in jedem Jahr etwa 350.000 Besucher an. Zwei Foyers, zwei Säle und mehrere Konferenzräume bieten genug Platz. Im großen Saal können 770 Choristen neben einer Steinmeyer-Orgel mit 6646 Pfeifen Platz nehmen. Und trotz dieser Größe besticht der Saal durch seine Schlichtheit. Kein Prunk lenkt den Zuhörer vom Geschehen ab. Die beiden Säle der Meistersingerhalle werden auch zu Aufnahmen klassischer Konzerte genutzt.

Im Herzen Nürnbergs ist die Meistersingerhalle zu einer festen Kulturinstitution geworden. Hier können Sie Konzerte der Spitzenklasse live erleben. Lassen Sie sich von international gefeierten Künstlern in fremde Welten entführen – es lohnt sich!
Terms and conditions
Corona-Vorschriften
Zur Zeit keine Einschränkungen